The Animorphs academy was established to train new Animorphs for infiltration, intelligence and combat missions throughout this galaxy. It currently produces a hundred new Animorphs per year, but it turns down thousands of applicants every recruting cycle. The Animorph force forms the elite core of the Earth confederacies military.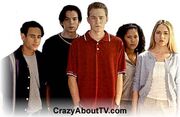 The Academy
Edit
The Academy is located in Washington D.C, not far from the new United Peoples of Earth building. The UPE is a branch of the new Earth goverment. It provides funding, political support and civilian oversight for the Earth confederacies military operations.
Only a certain kind of person makes it into the Animorphs Academy, they must under go extensive back ground checks as well as psychological tests. Although physical fitness is considered somewhat important, because morphing is used it is far less important that one be physicly fit as mentaly fit. This makes the Animorphs Academy the first Human military organization to regulary accept the handicapped as operatives.
Creatures from Earth are used, but rare and dangerous or usefull creatures have been gathered from around the galaxy.
Battle morphs
Edit
Gorrilla
Siberian or Bengel tiger
Lion
Wolf
Elephant
Rhino
Grizzly bear
Polar bear
Tiger shark
Great white shark
Rattle snake
Cobra
Infiltration morphs
Edit
Fly
Cockroach
Ant
Termite
Mosquito
Flea
Specialty morphs
Edit
Bat